Happy belated Thanksgiving to everyone in the U.S.! There's nothing like a holiday centered around stuffing your face full of comfort food. Thank goodness it only comes once a year, or else I'd find an excuse to make all these delicious flavors appear on my plate at least once a month.
Considering I run a food blog, I felt it was imperative that I share a little bit of my own Thanksgiving with everyone. This holiday is usually a relaxed affair for my family, which means all the joy of eating massive quantities of food without the wacky aunt and uncle trying to tell you about "back in the day."
We always start off with a fruit salad..
The salad features a cherry mayonnaise dressing - it's a Scandinavian thing.
Being morally opposed to the taste of mayo, I opt for a plain salad every year.
Next comes the main courses and side dishes. My mom puts out two different kinds of cranberry sauce - the canned and a homemade version. I'm partial to the homemade version due to its rustic prairie days feel. If you took the essence of a forest, covered it in sugar, and ate it, you'd get this dish.
My favorite side is the dressing, my family's take on traditional fatty stuffing. Instead of filling the bird with breadcrumbs, you put the stuffing mixture in a dish and bake it. Less fat, same great taste!!
And no Thanksgiving dinner would be complete without the grand finale - the turkey...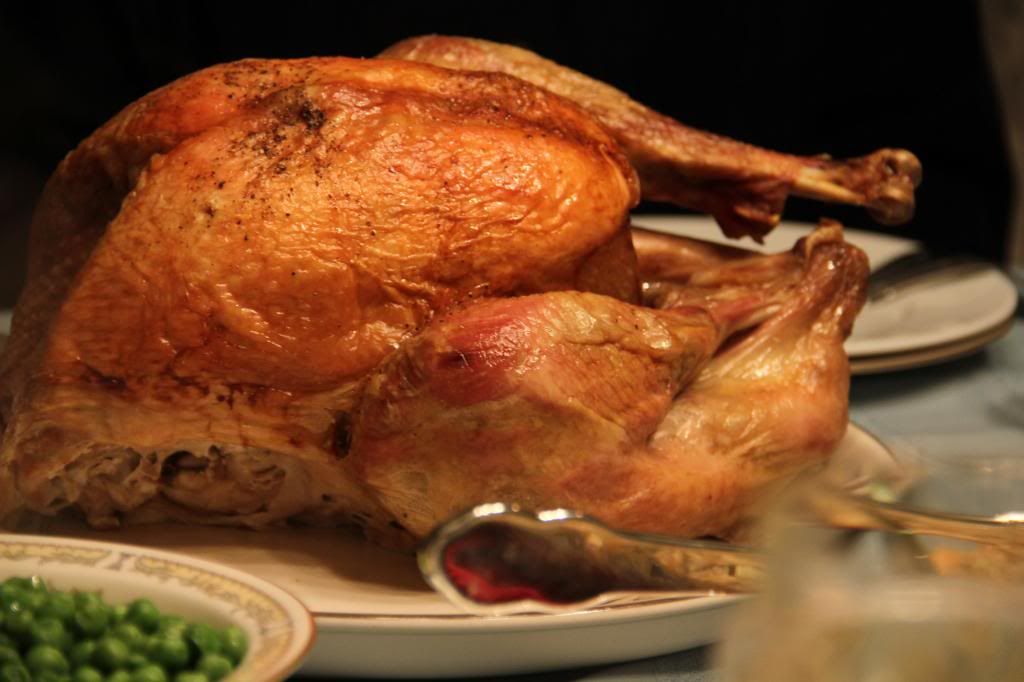 If you're interested in re-creating my favorite healthy side dish, grab these ingredients:
3 1/2 loafs white bread, crusts removed and cubed
2-3 turkey wings, boiled, meat shredded
2.5 oz dried sage (roughly 4 tablespoons)
Preheat your oven to 350 degrees
Combine your bread, meat, onions, and celery into a bowl. Slowly stir in your chicken broth, mixing well to combine. Add your sage, salt, and pepper in increments, tasting about 3/4 the way through to make sure the taste is to your liking. Pour the whole thing in a large buttered pan and cook for 45 minutes.
Happy belated Thanksgiving! And get ready for some Christmas recipes....
Tweet